Last updated: 4/23/2008
Phone:  763-261-2288 or 763-261-5215










Prices, photos, & other information may not be current.  Contact us for details on on any horse you have an interest

Scroll down the page or click link to see Ruby's foals at our Ranch.


2006 Black Tobiano Stud Colt

by

1997 APHA Black Tobiano Mare

15H

Professional reining training with show experience.  Most anyone can ride her - quiet and gentle and nice to be around.  Fantastic all-around mare with great bloodlines.

Ruby has a total of 132 PtHA points in:  

Reining, Halter, Color, Barrel Racing, Western Pleasure, Trail, English Ideal, Disciplined Rail and more.







Cherokee Siemon



RW The Rock






Miss Calif Bar
Mardelle Siemon








Fly Skip Fly



Dixon Fly






Nurse's Stockings






Doc Bar - AQHA Hall of Fame



Doc's Oak - NCHA Hall of Fame






Susie's Bay






Charley's Sugar



Aqua Sugar






Agua Bubbles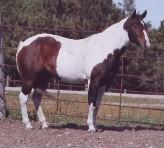 Black Tobiano Stud Colt

Biebers Royal Rascal

by