Great Grandson of:

Sailing Moon (Winner of over $40,000.00 - AAA);

Stormy Hancock Two (APHA - ROM in Halter, 51 Halter Points, 6, WP Points, 4 Heading Points, 22x Grand Champ, 5x Reserve Champ)

Sire: Lonely Patch by  Sailing Lonely & Natasha's Pride

Dam:  Miss Joe Jo by Grease Paint Joe and Missy Jo Hancock.

Many Champions & Point Earners in his Pedigree including:

- Natasha's Pride (2 APHA pts) by

- Dino Dell (AQHA Pts) by

- Poco Dell (AQHA Champion, ROM, etc) by

- Poco Bueno (AQHA Hall of Fame Champion);

- Sailing Moon (AAA winner of $40,000+) by

- Top Moon (AAA Winner, AQHA Hall of Fame) by

- Moon Deck (AAA Winner);

- Stormy Hancock (7 APHA Pts),

- Indian Module (5 APHA Pts);

- Greasebar,

- Three Bars (TB - AQHA Hall of Fame),

- Little Joe,

- Little Request,

- Requested,

- Questionnaire,

- Little Visitor,

- Capture,

- Sun Briar,

- Yucca King,

- King Flit,

- Leo,

- Man O'War,

& More   

He is confident, intelligent &

versatile with a quiet disposition.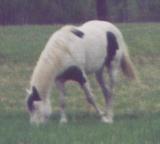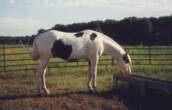 1996 Black Tob-Overo APHA/PtHA

Little Joe has earned his 100+ hour award in the APHA Ride America Program.  He has many more trail miles but we did not keep track.   He has been ridden by children and on trails in groups and alone.

Earner of APHA Points and money - he placed 1st in his English class at the 2006 MN State Fair Show. 

PtHA Points:  2 Trail, 4 Stake Race, 8 Barrel Racing, 2 Youth Western Pleasure.

He has also been shown in Open, WSCA, and 4-H Shows in Poles, Barrels, Key Hole, Jumping Figure 8, English, Western, Walk/Trot and more, and has been used in parades, and as a flag horse.

He also has had professional reining training, and is started on cattle.

A fun horse for most anyone to ride.  My young nieces and nephews ride him and have also shown him.

Little Joe has nice smooth gaits.

He is an easy keeper.

He has excellent ground manners. 

He is an excellent lesson horse.

Scroll Down for more Photos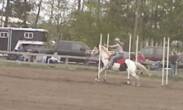 Prices, photos, & other information may not be current.  Contact us for details on on any horse you have an interest